"monaco statistics pocket"
Print this page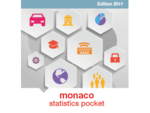 "monaco statistics pocket"
The Monegasque Institute for Statistics and Economic Studies publishes various documents, including "Monaco in Figures" which explores all the data available on Monaco's socio-economic life. Each new edition of the brochure looks at the results of the previous year.
Monaco Statistics Pocket, published for the last time for the 2017 edition, was an excerpt of this publication.
Monaco Statistics now publishes the Key figures booklet .
Référence :
ISSN-L 2311-4835
Source : Monaco Statistics
Find a place or contact details