Print this page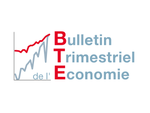 Economy Bulletin
The Economy Bulletin offers key figures of Monegasque economic activity for the preceding quarter. These figures are related to the sectors of Tourism, Real Estate, Transports, Foreign Trade, Consumption, Finance and Employment.
The figures for each period are aggregated and compared with those for the corresponding three months of the previous year.
At the end of the bulletin, commentaries are included on each sector in order to emphasise or explain the key points.
The Economy Bulletin data are collected from Government Departments (Department of Tax Services, Tourist and Convention Authority, Driver and Vehicle Licensing Office, Department of Budget and Treasury, Public Car Parks Office, Business Development Agency, Civil Aviation Authority), Monaco Social Funds and the French Customs Authorities Statistical Data Centre.
Référence :
ISSN-L 2311-5696
Find a place or contact details