Headlines
Now that the Driver and Vehicle Licensing Office has sent out the car sticker invoices for 2024 to all owners of vehicles registered in the Principality, the Government of Monaco recommends that users pay online. This process is quicker and easier.

Read more

of "Renew your car sticker online "

The switch to fibre requires on-site interventions by technicians from Monaco Telecom, to connect each home or business to the new network and to connect up the new devices used. This operation is free of charge.Users should contact Monaco Telecom as soon as possible in order to ensure their new fibre broadband connection is in place before the copper network is switched off.

Read more

of "Monaco's copper telecoms network to be switched off "
Subscribe to RSS Feed
Highlights
06 December 2023
Press release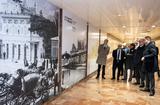 Hier soir, LL.AA.SS. le Prince Albert II et la Princesse Stéphanie de Monaco se sont rendus à la gare, via la galerie Sainte-Dévote et le quai, afin de découvrir, au niveau du hall, l'exposition «...
Read more

of Visite princière de l'exposition en Gare de Monaco : « Le Chantier d'un règne. La mise en souterrain de la voie ferrée. 1958 – 1999 »
06 December 2023
Press release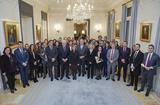 Le lundi 4 décembre 2023, S.E. le Ministre d'État, Pierre DARTOUT, en présence de M. Etienne FRANZI, Président de l'Association Monégasque des Activités Financières (AMAF) et de nombreuses autres p...
Read more

of Cérémonie des diplômes de la Certification Professionnelle Monégasque
06 December 2023
Press release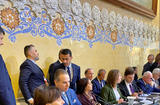 Comme chaque année, Barcelone a accueilli le 27 novembre le Forum Régional de l'UpM réunissant les Ministres des pays du pourtour méditerranéen membres de cette organisation. La délégation monégasq...
Read more

of La Principauté de Monaco présente au VIIIème Forum Régional de l'Union pour la Méditerranée à Barcelone– UpM
06 December 2023
Press release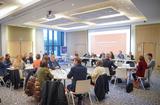 Le mardi 28 novembre 2023, s'est tenue une séance plénière de l'Observatoire du Commerce, sous la présidence de S.E. M. Pierre DARTOUT, Ministre d'Etat, en présence de M. Marco PICCININI, Conseille...
Read more

of Réunion de l'Observatoire du Commerce