Subscribe to RSS Feed
Highlights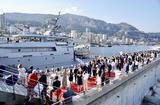 En présence de S.A.S. la Princesse Stéphanie, Serge Telle, Ministre d'Etat, a assisté à la réception donnée ce jour par S.E. Mme Marine De Carné-Trécesson, Ambassadeur de France à Monaco, à l'occas...
Read more

of Célébrations de la Fête Nationale française en Principauté de Monaco
13 July 2018
Press release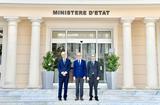 Le vendredi 13 juillet 2018, Antoni Marti Petit, Chef du Gouvernement d'Andorre et Nicola Renzi, Ministre pour les Affaires étrangères, politiques et la Justice, accompagnés d'une délégation*, ont...
Read more

of Réunion tripartite sur les négociations avec l'Union européenne Monaco, Andorre et Saint-Marin
13 July 2018
Press release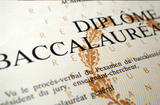 *Les résultats définitifs du Baccalauréat viennent de confirmer l'excellent score réalisé par les lycéens de la Principauté, dès le 1er tour de cet examen.Dans l'enseignement public: le Lycée Alb...
Read more

of Performances exceptionnelles des élèves de la Principauté pour l'édition 2018 du Baccalauréat et du Diplôme National du Brevet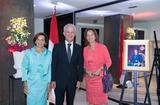 Le 9 juillet 2018, l'Ambassadeur de la Principauté de Monaco en France a célébré l'anniversaire de l'Avènement de S.A.S le Prince Albert II, au Pavillon Vendôme, au cœur de 1er arrondissement de Pa...
Read more

of Réception à Paris pour célébrer l'anniversaire de l'Avènement de S.A.S le Prince Souverain