Health: a priority for Monaco
Print this page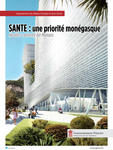 Health: a priority for Monaco
The "Healthcare" leaflet is a first for Monaco. Providing everyone with access to an exemplary public health system is a priority for the Prince's Government. To this end, the Principality of Monaco has a healthcare system which is the envy of many, both for the quality of its teams and for the standard of equipment available across many specialities. This equipment is at the cutting edge of technology today, and will certainly remain so in the future with the construction of the new hospital.
Monaco offers a remarkable level of health security, a fact which is often acknowledged, but Monegasques, residents, those who work here and visitors are not always able to appreciate all the details of what is available.
The Ministry of Health and Social Affairs would like to introduce this leaflet entitled "Health: a priority for Monaco", which is designed to raise awareness of the comprehensive services available in the country and highlight the excellence of our healthcare system.
The leaflet, which can be downloaded from this page, will gradually be made available through health professionals and healthcare facilities in the Principality.