Print this page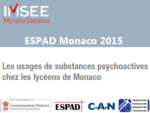 ESPAD 2015 survey
The Prince's Government has recently received the results of the ESPAD (European School Survey Project on Alcohol and Other Drugs) survey carried out in 2015.
The aim of the survey is to collect comparable, reliable data in as many European countries as possible in order to provide a solid foundation which will facilitate the adoption of appropriate policies, particularly those aimed at young people. It measures tobacco, alcohol, and other illicit drug use by young students in Europe.
The survey is carried out every four years in 36 countries of continental Europe. More than 100,000 European teenagers aged 16 were surveyed under identical conditions, enabling a reliable comparison to be made of consumption habits among school pupils in participating countries. Monaco is thus able to be part of a scientifically validated framework, using a standardised methodology.
In line with the wishes of the Prince's Government, Monaco took part in the survey in April 2007, 2011 and 2015. Monaco Statistics (Monegasque Institute of Statistics and Economic Studies) helped to conduct the survey with support from the Department of Education, Youth and Sport, under the supervision of the French Monitoring Centre for Drugs and Drug Addiction (OFDT).
Référence :
ISSN-L 2519-0989
Source : Enquêtes ESPAD Monaco DENJS – IMSEE – OFDT
Find a place or contact detail