Energy Transition White Paper of Monaco
Print this page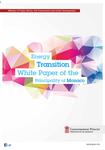 Energy Transition White Paper of Monaco
The Principality of Monaco made a commitment to cut its greenhouse gas emissions by 50% by 2030 when compared with 1990 levels and to reach carbon neutrality by 2050.
To reach these ambitious targets, the Energy Transition White Paper approach collects perceptions, actions and expectations from local stakeholders in order to define a shared roadmap that will lead us towards 2050.
59 organisations and close to 90 people were met. The issues and solutions identified by the participants are presented in this document published in March 2017.
Source : Mission pour la Transition Energétique
Find a place or contact details