Minister of State visits industrial enterprises based in Monaco 3X ENGINEERING SAM
Print this page
All the news
News of theme "Businesses"
Minister of State visits industrial enterprises based in Monaco 3X ENGINEERING SAM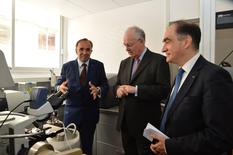 The Minister of State, accompanied by the Minister of Finance and Economy, recently visited 3X ENGINEERING SAM, located in a 400 m2 space in the Le Copori building in Fontvieille. They were welcomed by Chief Executive Officer Stanislas Boulet D'auria, who gave a presentation about the company and its operations.
3X ENGINEERING, established in Monaco in 1990, designs and manufactures repair and sealing systems for onshore and offshore pipelines carrying hydrocarbons and pressurised gas. The systems can be implemented without the need to shut down production.
The company developed out of a research contract with Gaz de France and a request from Lyonnaise des Eaux. These collaborations would result in patents being filed and the production of a range of products sold to companies responsible for maintaining networks. In 1995, 3X turned its attention to the oil and gas market with two new patented designs; the products were marketed from 2001 onwards.
Since that time, 3X ENGINEERING has grown throughout the world. The company's range of products and services were diversified through the introduction of a patented design which enables a catenary support structure with damaged housing to be repaired without being replaced. A partnership was established with SNCF to develop and market this revolutionary concept throughout the world.
To retain its position as the market leader, 3X ENGINEERING has recently designed and developed two new patented products registered with the Monaco Patent Office. The company's short-term objectives are to: develop its network of sales distributors; establish itself in untapped markets (deep offshore repairs, etc.) and improve quality (a quality audit was launched in 2013 with a view to achieving ISO 9001 certification).
Autres actualités du thème
Find a place or contact details